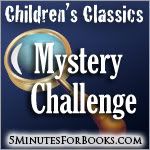 Read on to find out about the giveaway attached to this post
As of this month, we're half way through our
Children's Classics Mystery Challenge
here at 5 Minutes for Books! Have you gotten to everything you wanted to? Do you still have books and friends you want to revisit? Perhaps you have a new friend or two to make yet – I know I do!
Last month
seemed to be the month of Encyclopedia Brown and he's a guy I've yet to meet. I'm hoping to spend time getting to know him soon. This month, however, I caught up with some old pals of mine, the Dana Girls.
Bluestocking also mentioned The Dana Girls a few months back and I'd encourage you to go read her post as she gives a good introduction to them. Actually, I'm going to quote from her review of the Dana Girls (with permission) and then you ought to go and read it yourself!
The Dana girl mysteries are about two sisters Louise and Jean Dana. They are orphans being raised by their uncle, Captain Ned Dana, and their Aunt Harriet with the maid Cora Appel. They attend a private boarding school called Starhurst, whose headmistress is Mrs. Crandall. They have their friends Evelyn Starr and enemies Lettie Biggs and Ina Mason.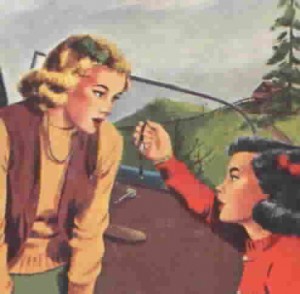 This month I delved into The Secret At Lone Tree Cottage
which is the second book in the Dana Girls series. I've never been able to locate a copy of the first. I did buy up a few Dana Girls books as I saw them, but unfortunately I've never been able to see how the series began! In this second book, Louise and Jean Dana are helping solve the mystery of a kidnapping which involves the English teacher at Starhurst. Due to some interesting family dynamics, their teacher's family doesn't want the police informed of the kidnapping, instead choosing to rely on the detective prowess of the Dana sisters. Such confidence in their abilities! Such amazing trust! Periodically, of course, the sisters suggest that perhaps this is a job better handled by police but in the end, even police involvement doesn't matter. Naturally, the Dana Girls solve the crime and locate the missing teacher! What ho! Hurrah! Cheers all around!
Naturally, the Dana girls have as interesting a publishing and author history as any of their peers. The first four books were written by Leslie McFarlane who also used the pseudonym of Franklin F. Dixon (which should ring a bell to you Hardy Boy fans!) The Dana Girls were also written by authors of the Nancy Drew books. This series is quite enjoyable and I add my enthusiasm to Bluestocking's in recommending them to you. If you haven't heard of them before, you can get a quick history of the Dana Girls from THIS WEBSITE.
In the meantime, I'm looking forward, once again, to seeing what you all read and wrote about this month! Hope you are (still) having fun!
We have a special giveaway just for you! Jennifer has a brand new copy of The Whispering Statue that she'd like to send to one of you (U.S. shipping addresses only).
We'd love for you to receive this book and read it before the end of the challenge in June (but there are no strings attached). It could be your first Nancy Drew Mystery or a return to an old favorite. Indicate in your comment that you are interested in winning the book (if you aren't, you can still comment on this post). We'll announce the winner on Wednesday March 17.
Carrie comes by her book obsession honestly, having descended from a long line of bibliophiles. She blogs about books regularly at Reading to Know and Reading My Library.
Check out our current giveaways. Subscribe to our feed. Follow us @5M4B on Twitter.