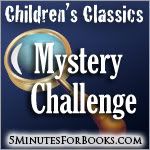 Yay! We're onto our second month of this challenge and I'm honestly wondering if six months is enough time to talk about everything and everyone that I want to talk about! You guys are making this challenge such a blast for me and I loved seeing what everyone else posted about last month. I can't wait to see who and what you have to talk about this month!
As for myself, I spent a good bit of January catching up with an old friend of mine, Cherry Ames. I wrote up a bit about the Cherry Ames series which I'd encourage you to pop off and read if you didn't get a chance to earlier. I have also reviewed the first title in the series, Cherry Ames, Student Nurse over at Reading to Know. (Click on the title to read my review of it.) Right here and right now I'd like to introduce you to Cherry as she had some adventures as a Rural Nurse
!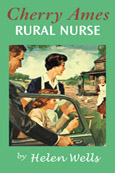 In Cherry Ames, Rural Nurse
we find Cherry accepting a job as a county nurse in southeastern Iowa. She's the only nurse in the entire county and finds herself in a possession of a new vehicle to help her make her house calls. (Yes, this is back in the good old days where you stayed home when you were sick and the doctor/nurse came to you!) She is working on becoming acquainted with the local doctor as well as the people in her new community when she discovers a good number of people falling ill after taking a "natural remedy" which was peddled to them. Cherry can't figure out who the peddler is or what the natural remedy is made of but she purposes to find out! She needs to find a sample of the product but the community is guarded and doesn't want to share the information. The Food & Drug Administration is called in, Cherry is disguising herself to meet peddlers in the woods, and there is even a secret tunnel from the Underground Railway involved in this particular medical mystery.
This particular title was penned by Julie Campell Tatham, authoress of the Trixie Belden series and is a post-war peacetime mystery story. If you haven't read Cherry Ames, you don't necessarily need to start at the beginning. It's nice to get a feel for the history of Cherry and where she has been, but each book stands alone because she has different jobs in every book. I really enjoyed Rural Nurse
and it's probably my second favorite in the series, coming in after Private Duty Nurse
. I absolutely love Cherry's adventures and heartily encourage you to check out a Cherry book or two during this challenge. I think you'll seriously be missing out if you don't!
Now it's your turn. What have YOU been reading as part of this challenge? I look forward to finding out!
Carrie thought of Nancy Drew and Trixie Belden as her best friends growing up. She blogs about books regularly at Reading to Know and Reading My Library.