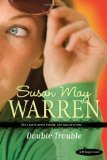 Last May, I reviewed Susan May Warren's Nothing But Trouble. In this story, PJ Sugar returns to her hometown after a ten year absence and finds herself in the middle of a big mess. At the conclusion of that story, PJ resolves to remain home and put the pieces of her life back together.
In Double Trouble
, Susan May Warren continues PJ's story. PJ is working toward a career in private investigating, and she finds herself at the center of a dangerous situation. Meanwhile, Boone, PJ's high-school sweetheart, hopes to have her as his bride-to-be. Although PJ loves Boone, she is hesitant to answer yes because she is not sure she is the same girl he fell in love with, and she isn't too sure about her feelings toward her new boss either.
As usual, Susan May Warren delivers a light-hearted, funny tale, and I can always see a little bit of myself in her characters. If you are looking for a fun, contemporary story about a woman who does not have everything in her life running perfectly (sound familiar?), be sure to check out Double Trouble
.
You can enter to win a copy of Double Trouble by leaving a comment on this post. Additionally, you can enter to win a huge prize package from Susan May Warren by clicking on the button below. The $150 Super Sleuth Package includes:
* A brand new iPod Shuffle (perfect for those all-night stakeouts)
* A $10 iTunes gift card (we recommend the ALIAS soundtrack)
* A $10 Amazon gift card (why yes, they do sell spy pens)
* A $10 Starbucks gift card (for fuel, obviously)
* A pair of designer sunglasses (be stealthy AND super chic)
* A gorgeous scarf from World Market (can also be used as a blindfold, and/or for tying up bad guys)
* AND signed copies of both Nothing But Trouble & Double Trouble. (romance! danger! intrigue! sooo much better than Surveillance for Dummies!)
We have several winners to announce this week. The three winners of Godmother are: #9 – edj, #39 – Laura Hartness and #47- Kelly

The winner of the Nuddle is #41 – Benita G.

The winner of the four novels in the Irish Country Village series is #23 – Noreen.

Also, don't forget to check out the locket in the ad in the left sidebar. Get $20 off any order at Emma Parker & Co. Jewelry with the code: BOOKLOVERS.
Lauren is a wife, a mother of two, and an avid reader. She blogs at Baseballs and Bows. Lauren thanks Litfuse Publishing for providing the review copy of this book.