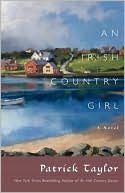 An Irish Country Girl is the fourth book in the series that Patrick Taylor began with An Irish Country Doctor. This book focuses completely on the life of their housekeeper Kinky, going back to her teen years in Cork County. It's a story of Irish superstitions, first love, and a young woman's dreams.
I hadn't read any of the other books, and because it departs from the storyline, I didn't miss the previous events at all. I'll probably read some of the others in the series, which I get the sense are sort of like an Irish doctor version of James Herriot's English country vet novels, but one could easily read this book as a standalone.
In An Irish Country Girl It's Christmas, and Maureen "Kinky" Kincaid is telling the local children of Ballybucklebo the story of the Dove Shee that warned a man and ended up taking his life back on a St. Stephen's Day in the 1920s. At first this story seemed a bit long-winded to me, but it ended up being important backstory to Maureen's own life and love story.
The Irish dialect is used throughout the book, and first it seemed a bit cumbersome, but once I got used to it, it added so much depth to this sweet story of first love and life's aspirations.
We are pleased to be able to offer one reader the entire set of four novels in the Irish Country Village series by Patrick Taylor: An Irish Country Doctor, An Irish Country Village, An Irish Country Christmas, and the newest book An Irish Country Girl.

U.S. and Canadian shipping addresses are eligible, so leave a comment if you'd like to win. We'll announce the winner on February 10.
Check out our current giveaways. Subscribe to our feed. Follow us @5M4B on Twitter.

Check out that gorgeous locket in the ad in the left sidebar. Get $20 off any order at Emma Parker & Co. Jewelry with the code: BOOKLOVERS.
We have several winners to announce this week. From our Classics Bookclub giveaway that ran through the end of January:

Jane Eyre from Readable Classics goes to Katy at A Few More Pages (#15).

The winner of The Invitation to the Classics is Hope (#22).

You can still join in anytime! We'll be linking up our reviews and progress on March 29.

The winner of the Brainiac Secret Agent Activity Book is #9 – Sarita Rogers
You can also find Jennifer Donovan trying to find some of the luck of the Irish that her last name promises at her blog Snapshot.