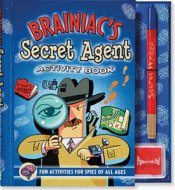 I admit it – I'm rather obsessed with the Children's Classics Mystery Reading Challenge which got underway here in January. It's just too fun revisiting my past through characters like Nancy Drew and Cherry Ames.
As I mentioned, when I was younger I used to peruse the Nancy Drew Sleuth Book and try to dig up mysteries with my best friend. What we wouldn't have done (and maybe it's a good thing we didn't have it to do) with Brainiac's Secret Agent Activity Book
– well, I just can't say! I didn't have it. But I would have loved it.
Published by Peter Pauper Press, the Secret Agent Activity Book
has absolutely everything that a young agent could possibly want (except perhaps a genuine mystery which they are still left to find for themselves).
It has:
* Codes to crack
* A "Spy Q" Test
* The materials necessary to build a code ring
* "Mini mysteries" to solve
* A stamp pad for finger printing AND finger print files for the agent to keep on file.
* It has a magic disappearing ink pen so that one can send themselves and their friends super secret mystery messages.
It has a few pages with encouragement for you to write out your own mystery and even includes punch out mustaches for when an undercover operation needs to be taken.
My word, I just love this book!
I love how it fosters the imagination in a relatively innocent way. I love that the book requires children to think and problem solve, all while having fun! It's a clever, clever book and one that I think any young fan of mysteries would simply love and enjoy! It's a book to share with siblings and friends who want to have a good time.
I really can't think of enough nice things to say about this book except for that I'm going to give it a Five Star Rating because I think it's just THAT cool and THAT awesome! I'd recommend it in conjunction with Spyology which I reviewed around these parts earlier (click on the title to read my review). I think that these two books compliment each other well.
At this point, I couldn't be more delighted to tell you that Peter Pauper Press has offered one copy of Brainiac's Secret Agent Activity Book
to one of our readers. In order to win, simply leave a comment below.
Conratulations to [email protected]. She is the winner of The Silent Governess, our giveaway from last Wednesday.
Happy Sleuthing!
Check out our current giveaways. Subscribe to our feed. Follow us @5M4B on Twitter.
Carrie comes by her book obsession honestly, having descended from a long line of bibliophiles. She blogs about books regularly at Reading to Know and Reading My Library.