"I used to be a beauty…too good for our dusty little town…destined for greatness."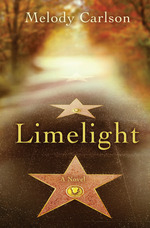 The tagline on the back cover of Limelight definitely caught my attention.
Claudette Fiore, the woman to whom those words belong, is quite the character. She's a delightful combination of Clairee and Ouiser from Steel Magnolias, and the formidable Bette Davis, with maybe a hint of Scarlett O'Hara for good measure. An aging Hollywood widow, Claudette finds herself outside of the spotlight she always craved and adored. Sure, when she was the wife of famed director Gavin Fiore, the days of shopping were followed by nights of partying with the in-crowd. The world was her oyster. Now, an IRS scandal has left her to spend what's left of her life in near-poverty.
Claudette's almost step-son, Michael, comes from Hawaii to help her find a way to face her future. He talks her into moving back to her tiny hometown, where she must come face-to-face with her not-so-stellar past and her inability to function outside of the limelight.
Author Melody Carlson has created a memorable cast of characters, who had me laughing out loud in some places. If you're looking for a quick read that's a lot of fun, Limelight is just the ticket.
I'm glad Multonomah Publishers gave me the opportunity for this review.
Melissa has been captivated by books for as long as she can remember. She resides in Virginia and blogs at Breath of Life.