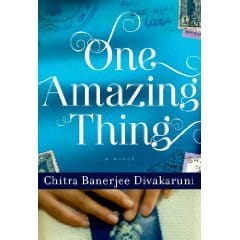 One Amazing Thing is the story of a group of strangers who are caught in an Indian Visa office in San Francisco when an earthquake traps them in a room. They are all there to get a Visa for upcoming trips to India, but while they all have a common reason for being there, their reasons are all quite diverse.
The group includes:
the Pritchetts, a middle-aged couple whose marriage is in trouble
a Chinese grandmother and her very American teen granddaughter (but the Chinese grandmother hails from Kolkutta Chinatown, which I didn't even know existed)
Tariq, a young adult Indian Muslim teen
Cameron, an African American former solder, who takes the reins in their survival
Mathalthi and Mr. Mangalam, the Indian office workers
and Uma, an Indian-American graduate student, whose narration forms the thread throughout the story
Uma, "interested quite unnecessarily in the secrets of strangers" (ARC page 3), suggests that each person tell a story about "one amazing thing" from their life in order to help pass the time until they are rescued.
The writing is beautiful, and the human observation is just what I love about well-crafted character-driven novels: Describing a look on someone's face, "fear, or maybe it was hope, the flip side of fear" (ARC page 4).
This is the first book I've read by Divakaruni, and I would like to read a more traditional novel by her. The stories from One Amazing Thing will definitely stick with me. Some of them were fantastic. If the in-between parts were more developed, or even if an ending had pulled it more together, it would have been not just good — but great.
If you do like short stories, I give this a high recommendation, but as a novel it felt a bit unresolved.
Jennifer Donovan wonders what the one amazing thing she would tell about her life would be. Maybe you'll get a clue by reading her blog Snapshot.