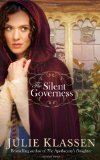 In 2007, I set out to read all of Jane Austen's novels, and by sometime in 2008, I finished. Since that time, I enjoy an occasional visit to Jane's England by rereading her works or through new fiction set in the Regency Period.
Julie Klassen is quickly becoming one of my favorite Regency authors. I heard about her first book, The Lady of Milkweed Manor
, when Jennifer reviewed it at 5 Minutes for Mom. Then, I read The Apothecary's Daughter
and reviewed it at 5 Minutes for Books. After immensely enjoying her first two books, I jumped at the chance to read The Silent Governess
, Julie Klassen's latest work.
The Silent Governess
is the story of Miss Olivia Keene, a young lady who dreams of operating her own school for girls. After difficult circumstances force her to flee her home, she finds herself in even more danger when she overhears the secret of Lord Bradley, the heir of Brightwell Court. Lord Bradley forces Miss Keene into service in the nursery where he can keep an eye on her, but he becomes increasingly interested in Miss Keene and wonders about the secret she is hiding as well.
The Silent Governess
is a tale filled with secrets and a story that demonstrates that we can never leave our past completely behind. I lost myself in the pages and could easily picture myself walking the hallways of Brightwell Court with the characters. The Silent Governess
is a delightful page-turner, and although I figured out some aspects of the story on my own, Julie Klassen saved some surprising twists and turns for the end!
At the risk of sounding simplistic, I really, really liked this book! Because I enjoyed it so much, I am excited to feature it as this week's Wednesday giveaway so that one of you can win a copy of your own. Whether you enjoy Jane Austen's England, or you just like a good suspenseful, romantic story, The Silent Governess
is a great addition to any reading list.
If you would like to win a copy of this book, please leave a comment on this post.
The winner of The Water Giver is #10 Linda.
Check out our current giveaways. Subscribe to our feed. Follow us @5M4B on Twitter.
Lauren is a wife, a mother of two, and an avid reader. She blogs at Baseballs and Bows. Lauren thanks Bethany House for providing the review copy of this book.