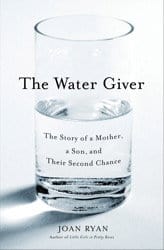 Have you ever had to stand by your child's side as he or she recovered from a devastating accident or illness? The closest I've come is holding my normally active toddler boy who is rendered still by a high fever, or comforting my healthy tween daughter as she is wracked by a violent stomach bug.
This is nothing compared to what parents of special needs children, children with chronic illness, or those involved in serious accidents are dealing with in hospitals in every city every day.
In The Water Giver, Joan Ryan shares her experience of nursing her teenage son back to health after he suffers a traumatic brain injury. It's something that no parent wants to face, and about which many parents choose to remain blissfully ignorant instead of facing their worst fears.
However, I find that reading stories such as The Water Giver remind me to be grateful for the health and safety of my children and to enjoy each moment in the face of the reminder that life is quite fragile. They also help me to be more sympathetic and compassionate towards those who may be facing similar struggles.
This lesson of learning to love and appreciate our children for who they are is exactly what Joan Ryan experienced. The subtitle refers to a mother, a son, and their second chance. You see, when Ryan adopted her son Ryan (who was given his mother's last name as his first name), she never quite felt as if she was connecting with him. With some behavior problems and severe ADHD, he did not live up to the image of the child she imagined raising.
It wasn't until he was in almost-fatal accident when he was sixteen years old that Joan finally felt that she was born as a mother. She finally loved her son unconditionally and felt that tenderness that women expect to come naturally as soon as our baby is placed in our arms.
If you are interested in medical treatment, you will find the information about how Ryan's traumatic brain injury was treated and his months-long recovery fascinating. If you're a mom who has ever struggled with not feeling like a "real mom" should, you will relate to Ryan's story.
The Water Giver is a well-written memoir — full of heartfelt details, yet not saccharine sweet.
We have a copy of The Water Giver to give to one of you. Just leave a comment, and we'll announce the winner in next week's giveaway column.
**THIS GIVEAWAY IS CLOSED***
Check out our current giveaways. Subscribe to our feed. Follow us @5M4B on Twitter.
The winner of the Chicken Soup for the Soul books and game from last week is #10 Linda Kash. Congrats!

Jennifer Donovan is not always the mom she wants to be. She dissects her life and work at her blog Snapshot.