Every month, the people behind the Chicken Soup for the Soul books release a new title, unique in its focus but keeping with the tradition of personal stories that offer inspiration, guidance and faith. Three of their most recent books are summarized here, as part of our series of Chicken Soup giveaways.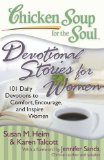 Devotional Stories for Women: 101 Daily Devotions to Comfort, Encourage and Inspire Women offers a series of Christian devotions and prayers that also include Bible passages and accompanying real life stories. For those sharing in these beliefs, this book offers comfort and affirmation through individuals' own experiences and faith, while reinforcing Bible reading and study.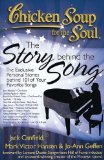 With The Story Behind the Song: The Exclusive Personal Stories behind 101 of Your Favorite Songs, readers hear directly from songwriters and performers across many musical genres, from Paul Anka to Kanye West, Smokey Robinson to Huey Lewis, David Cassidy to Clint Black. The stories shared bring insight into beloved songs, and I found it fun to search through the list finding artists whose works I've been a fan of. A unique Chicken Soup for the Soul book, definitely.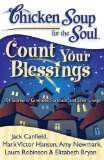 As we ring in the new year, resolutions are made and many of us find ourselves taking stock of our lives as we advance the calendar pages. In Count Your Blessings: 101 Stories of Gratitude, Fortitude, and Silver Linings, we are reminded of the good fortune and blessings that are bestowed upon us already. Especially in tough times, it's too easy to focus on the things that we wish were different in our lives, but it's refreshing and rewarding to shift that awareness to the positives that abound all around us. These personal tales inspire readers to express their own gratitude as well. To share the experience with your family, the Count Your Blessings board game is available as well, allowing you to encourage a positive outlook during family game night.
For one lucky winner, we have a copy of all three Chicken Soup for the Soul books, as well as the Count Your Blessings board game. (U.S. and Canada only, please) Please leave a comment to be entered!
Check out our current giveaways. Subscribe to our feed. Follow us @5M4B on Twitter.
Dawn is thankful for any spare moment she can grab to read, with blogging at my thoughts exactly coming in as a close second on her hobby list.