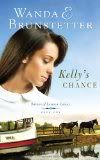 My husband and I are planning a trip to Philadelphia this spring. Because I enjoy history, I am excited about the trip and all of the opportunities to experience the early years of America (not to mention that we almost never go anywhere ALONE). Of course, I don't have to go to Pennsylvania to discover its history. I recently learned something new in Wanda Brunstetter's newest novel, Kelly's Chance
.
In this story, Mrs. Brunstetter explores a part of Pennsylvania history that was unfamiliar to me. Pennsylvania's Lehigh Canal was constructed to expedite the shipping of coal to the major cities. In Kelly's Chance
, the protagonist, Kelly McGregor, is forced to drive the mules that pull her family's boat, carrying coal to the city. Kelly dreams of getting away from the hard life, but after watching her parents live in a loveless marriage, Kelly has no desire for a husband. Instead, her plan is to save enough money to pursue her love of art. When a store owner along the canal offers to sell Kelly's drawings, she begins to hope that her dreams will come true. What Kelly doesn't expect, however, is that the shopkeeper and his belief in God will change her life in other ways as well.
Wanda Brunstetter is an award-winning author, and readers will enjoy this first book in her new Lehigh Canal series. As always with historical fiction, I really appreciated learning something new about our nation's past, and Kelly's story was enjoyable as well. Kelly's Chance
is a heartwarming tale, and I recommend it to all of you fans of historical fiction. I hope to learn even more about the history of the Lehigh Canal in the coming months, and I look forward to the next book in the series.
Lauren is a wife, a mother of two, and an avid reader. She blogs at Baseballs and Bows. Lauren thanks Barbour Books for providing the review copy of this book.