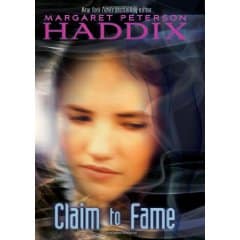 Amanda (age 11) LOVES Margaret Peterson Haddix. I believe that she's read every book that she's ever written, and most of them she's read more than once. She tells me that they are suspenseful and exciting.
When I had the opportunity to review Claim to Fame, I jumped at it because I have been meaning to see what all the fuss was with this popular author (and I knew that Amanda would be thrilled to have the latest Haddix book in her hands).
Claim to Fame is about former child-star Lindsay Scott. Lindsay is kidnapped by some well-meaning fans (her own age) who are concerned that she is being locked up in her house by her father, as a tabloid reported. They end up becoming friends after Lindsay assures them that she's not being held against her will.
But Lindsay has secrets that she doesn't tell them. For one, her father recently died unexpectedly of a heart attack, and she's staying alone in her home. And there is a real reason that she doesn't leave her house — it's the only place where she doesn't hear everything that anyone says about her.
That's right, ever since she hit puberty, Lindsay Scott can hear every word people say about her — whether it's her father's secretary, or an 8-year-old watching a rerun of "Just Me and the Kids" claiming that she wants her hair cut like Lindsay's.
It was narrated in first person, which moved it along quickly. The characterization of Lindsay Scott and the other characters was true. I liked how they were each "broken" in some way, dealing with problems from their past that manifesting in present insecurities. I think that young teens could relate to this (or adults for that matter — are you with me?).
The end wrapped up very quickly. The book wasn't that long, so adding a few more pages with a longer resolution to the action would have been more satisfying.
I think that one thing that Amanda enjoys about Margaret Peterson Haddix is that her books are generally action-packed. She did not enjoy this as much as the other Haddix books that she has LOVED, such as Found and Double Identity and Running Out of Time.
This book featured more psychological suspense. We want to know why Lindsay is the way she is, and we follow her on that quest as we find out right along with her.
I think that this might be more appropriate for older tweens and younger teens — 12 – 14.
CONTENT NOTE: I think that there was a mild swear word or two. The characters are 16-years-old, but there's not much teen behavior. The other characters assume that Lindsay does drugs, since she was a movie star (but she doesn't), and there are references to pedophilia, although they are subtle (a prisoner watching Lindsay on TV says "there's my girl," and it creeps Lindsay out). This was key to the plot, but it's subtle enough that I don't think it would bother a younger tween unaware of this type of behavior.