It's just been in the past year that I became interested in the WWII era. To be honest, I shied away from it because it was so disturbing. However, I've recently endeavored to expand my reading horizons a bit, and have tackled some difficult material. Enter Bending Toward the Sun.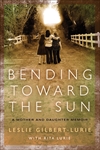 This mother-daughter memoir is broken into three parts. The first (and by far the most interesting to me) is the story of Rita Lurie and members of her family who hid together in an attic for two years during the Holocaust. Rita recounts her early childhood before the family was forced into hiding, the years they stayed in the cramped attic, and the post-war journey that took them through Europe and eventually to America.
Rita takes us through her life until her daughter, Leslie, is born. The second part of the story is told by Leslie, who explains growing up as the daughter of a Holocaust survivor. I must admit I wasn't as fascinated by Leslie's narrative, except when she and her family go to Poland (Rita, however, does not go), to see the attic and to search for clues to their family heritage.
Finally, the third (and shortest) part of the book is the story of how the book came to be. Mother and daughter come together to record their lives for posterity. Their relationship is fragile and intensely co-dependent, always haunted by the childhood that was snatched away from Rita and the terrible suffering she endured.
Bending Toward the Sun is not a light, fluffy read. It is gripping and frustrating, full of sadness and triumph. It is a harrowing, yet captivating story of survival that will stay with me for years to come.
Thanks to Harper Collins for allowing me to review this book.
Melissa has been captivated by books for as long as she can remember. She resides in Virginia and blogs at Breath of Life.