War is, well, you know what, a truism hauntingly and vividly portrayed in Sadie Jones' novel, Small Wars. We find in the title itself a reference not only to the small wars engaged by the British after WWII but also the small wars fought internally by the soldiers and those who love them. In this story set in 1956 Cyprus amid the conflicts between the British Empire and the Cypriots fighting for freedom, Jones encapsulates post traumatic stress syndrome, showing rather than telling us its dramatic and painful effects.
Hal is a good man, an honorable man and a respected commander. As the conflicts in Cyprus escalate, he finds himself caught in a crisis of conscience, horrified by the violence and brutality that accompany war and bound by his sense of duty and decency. In his increasing inability to cope, he withdraws from his wife Clara, who is fighting her own small war of quiet desperation, fear, and loneliness. In the end, Hal makes a choice that will dramatically affect the futures of everyone around him.
Small Wars is a difficult book to review because on the one hand it is so beautifully written; yet on the other hand it is sad and disturbing. I've been working on this review for quite some time and still I can't find the words to tell you all that the novel is. It is a war story, yes, but it is also a beautiful love story. I liked it, I was disturbed by it, I will not soon forget it.
In short, Small Wars is a good book. I will go so far as to grant it a Five Star designation, placing it among my favorites. However, I will tell you this: there is language and there are some explicit scenes of brutality and violence. I have often maintained that the use of coarse language and shocking violence or sex commonly represents laziness on the part of the author. That is not the case here. Jones' prose is both calm and composed; she is telling us as it is. While I think the novel would have been just as effective apart from the extreme language, I didn't feel as if Jones was attempting to shock or titillate. It is what is: war.
Thanks to publisher Harper Collins for providing the review copy!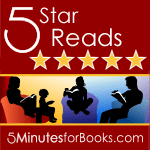 Wife and mother, Bible teacher and blogger, Lisa loves Jesus, coffee, dark chocolate and, of course, books. Read more of her reflections at Lisa writes….