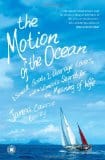 The Motion of the Ocean by Janna Cawrse Esarey is a delightful book that not many people could write. Anyone else taken a honeymoon voyage around the world in a small sailboat? That's what I thought.
This book should appeal to those who enjoy memoir (especially humorous ones), reflections on marriage, or armchair travelers. The details about spending more than a year on a boat circumnavigating the world are fascinating and something that most of us are likely never going to experience in real life.
Memoir is always tricky, because inherent in the genre is the need to be self-aware and introspective without crossing that fine and abhorrent line into self-absorption. In my opinion Janna Cawrse Esarey does this.
I enjoyed Esarey's warm (and funny!) style. She writes pragmatically about the inevitable hurdles that newlyweds face, although in her case they were amplified by the fact that they were stuck on a small boat together with only occasional other people there for company.
In a nutshell, The Motion of the Ocean is a look at how Janna Cawrse Esarey went from being a frantic, uncertain single teacher to a married woman certain about what she wanted to do — write. She discovered that not only did marriage cause her to lose herself, but it actually intensified her self-awareness and direction as she and her husband Grant took on the BHAG (big hairy audacious goal) — not only of a sailing trip around the world, but a happy marriage as well.
I give this book a strong recommendation. No, I didn't plow through it without breaks to eat or sleep. I did read it at a more leisurely pace, with no strong pull to finish, but I loved every page.
There is some language in the book, so if that turns you off, you should probably not pick it up, but if you check out this short video that the author made about bookclubs (rated PG-13), then you'll know whether or not you share her kind of humor and outlook on life. You can also watch the book trailer, and read an excerpt that I posted on my blog as I mused about my own seventeen years of marriage.

Yep, in addition to reading, Jennifer Donovan has managed to stay married for 17 years. She waxes about it and the rest of her life at her blog Snapshot.