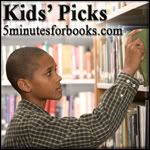 What book did your preschooler beg you to read again and again? What new author did your tween discover? What book made your kid turn off the TV and read this month?
You know the drill by now (or if not — read the detailed instructions HERE). I hope you'll take out some time to write up one or two of your children's best reads of the month.
For ease in searching, include your child(ren)'s ages in the link as well.
Things have changed for our Tuesday community events in 2010. Visit our Join In page to find out all the details.

Coming up:
Check out our current giveaways. Subscribe to our feed. Follow us @5M4B on Twitter.
Now it's your turn. Link up, directly to your blog post, or share your thoughts in the comments: