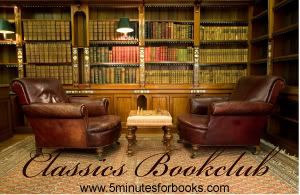 We've made a lot of changes to the Classics bookclub over this year to try to make it easier for people to participate. We've reduced the frequency, we've added in some non-classics, we've selected an author instead of a specific book to give people some leeway — and it's still been slow going.
We don't want to dump it. We know that there are some of you out there who love to read the Classics and love to be able to do so alongside other booklovers. And then there are those of you (like me!!), who want to re-read some of those classics that didn't mean as much as they could've because we read them when we were 16 years old. There are also books that we never got around to that we feel like we really "should" read someday.
So now we have a new idea.
We are going to reduce the frequency to quarterly — meeting up here on the 5th Tuesday of the month. Each quarter you can link up your reviews and thoughts of the classics that we've read over the previous quarter.
You pick the books you want to read, you pick when you want to read them, and you pick how many you'll read.
It's my hope that even though we aren't reading the same book, we'll still build a community of classics-lovers. If someone posts a review of a book you've read, go over and comment and join in the discussion, just as if we were holding a regular "bookclub chat." I also think that by doing it this way, we'll find books that we want to add to our list, or read reviews that will convince us that we can finally take a book that we thought we really should be read off that list for good.
So, this month, you can either link up the review of a book that you've read in the last couple of months, OR write up some goals for this year, letting us know how many classics you might want to read, or specific titles that you hope to get to (or both).
We will have prizes throughout the year to spur you on.
Anyone who links up a goals post by the end of January will be eligible to win a copy of Invitation to the Classics: A Guide to Books You've Always Wanted to Read (linked to Carrie's review).
Another reader will win a copy of Jane Eyre (From the Readable Classics series, which could be a great option for those of you who dislike the dated language of many classics).
When you link up, put either the name of the book you are reviewing, or "goals" (and you are welcome to do both) along with your name or blog site. The posts containing goals (U.S. and Canada residents) will be entered to win either of the books.
For example

Jennifer, Snapshot (Jane Eyre), would be how I would enter it if it was linked to my review of Jane Eyre, which was posted in October, November, or December.

My goals post would be entered as Jennifer, Snapshot (Goals).