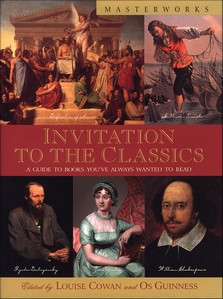 Baker Books have presented Invitation to the Classics
, a gem of a book, to readers who would like some help in immersing themselves into the world of the great books. The purpose of this book is not to dumb down the classics or give you simple overviews, the likes of which you can gather up in the form of Cliff Notes, etc. Rather, the authors view themselves as "custodians" of great works, and in compiling this book they open to engage you in the world of classic literature in a way that will excite you to go and read the whole (complete, unabridged) works themselves. For this reason, I have nothing but praise to offer Invitation to the Classics
.
First the authors introduce you to their objective and then, before getting to the individual books themselves, they also spend some time talking about the importance of classic literature and its relevance to readers today. The book is then laid out into a world history timeline, and spends time focused on individual authors, their motivations and histories, and works themselves. This is all presented in such a way as to whet your appetite and leave you incredibly hungry for more. The overview is expansive and can leave you feeling both overwhelmed by the sheer volume of books (you have likely yet to read!) and also inspired by a knowledge of well-known authors.
Invitation to the Classics
is perfect for the reader who wants to read more classical works and yet doesn't quite know where to start. It is also a good overview to be included into a high school curriculum. It is a reference book and a reading challenge all-in-one. I am really impressed by this book, am grateful for it, and find myself woefully under-read so if you don't hear from me for awhile it's because I'm attempting to immerse myself in the great works. A noble goal, yes? Attainable? Well, we'll see. At least I read this book?
Carrie comes by her book obsession honestly, having descended from a long line of bibliophiles. She blogs about books regularly at Reading to Know and Reading My Library.