Back in September, my favorite Washington, DC, based event occurred and I spent the entire day amongst book lovers at the 9th National Book Festival. I joyfully blogged about many of the highlights, but the effects of our experience that day are still being felt in my family's reading habits months later. My nine-year-old son and I happened to catch part of an author talk by Patrick Carman, who we weren't familiar with. He was promoting some of his books, and he kept referring to the 39 Clues series, which neither of us had never heard of, but quickly realized were right up my son's reading alley. We began to pay sharp attention, and these books immediately shot to the top of his library list.
Here's the skinny on the books:
There are six books published already, with a total of ten to be released by August 2010.
The books are intended for middle grade readers, aged 8 to 12.
Seven different (big name!) authors are penning the titles: Rick Riordan, Gordon Korman, Peter Lerangis, Jude Watson, Patrick Carman, Linda Sue Park, and Margaret Peterson Haddix.
The reading experience is supplemented by clue cards and online games that bring kids into the story, also allowing them to track the clues they have uncovered on their account at the official website.
Adventure abounds!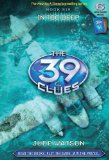 The basic story centers around Amy and Dan Cahill, sister and brother, after they and the other members of the Cahill family are mourning the death of their last family matriarch. According to a last minute adjustment to her will, Grace Cahill has offered her family members a choice: receive one million dollars or one of the 39 clues that uncover the secret to their family's power. The books bring Amy and Dan all over the world in their quest, connecting them with historical figures and immersing them in the biggest adventure of their lives as they search for the remaining clues.
While I haven't read the books myself, my 4th grader has consumed the first six, and is jumping out of his skin waiting for the seventh to be released in February. I asked him to tell me about why he loved these books, and here's his "guest review."
"What I love about the books are that they're very interesting and detailed. Every author makes them funny and intriguing. (Like I want to keep reading even when I need to go to bed.) I only remember a few places where they travel: Russia, Egypt, Australia, and Italy. If you're a kid who really likes mystery books, you should read these because they have a mystery in them and not every clue is explained to you. I'm looking forward to the next book because I want to see who wins the race, and I want to know what the secret is to their family's power. I'd have to say that my favorite was Book Four: Beyond the Grave."
The latest title, Book Six: In Too Deep was released in November. If you've got a young reader looking for mystery and a unique interactive reading experience, take my son's recommendation. Let the race begin!
Dawn and her children wear their bookworm labels with pride. Life, as they know it, is chronicled on her blog, my thoughts exactly.