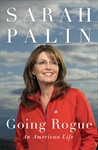 I like Sarah Palin. I think she's loyal, hard working, down-to-earth, and a breath of fresh air to the often stodgy and self-important establishment that is American politics.
That being said, I'm no political expert. I didn't read Going Rogue: An American Life because I want to be a political expert. I wanted to find out more about the woman who was plucked seemingly from out of nowhere and launched onto the national scene, only to become perhaps one of the most controversial women of our time. I wanted to find out how she caught John McCain's attention, and maybe even why many members of both political parties dislike her so much. The book answered many of those questions.
The daughter of a teacher who moved to Alaska for adventure and opportunities, Palin fondly recalls her childhood. She comes from a close-knit family who modeled a good work ethic and held high expectations. She's obviously in love with Alaska's rich history, and is extremely proud to call the state her home. She revels in the Alaskan spirit, which she exudes in spades.
I enjoyed finding out how politics just sort of fell into Palin's lap, and how she balances family and career (especially difficult since her husband's job takes him away from home much of the time). Palin is obviously not a political diva. Yes, she speaks her mind plainly. Yes, she questions the political process. Yes, she has stood against members of her party when she felt they were not doing what was best for the people. At the same time, she loves our country. She is proud to be an American, and has great hope for our country's future. She is also respectful of John McCain (I'd heard she railed against him in the book, but I didn't find that to be true). I found her to be genuine, witty and charming.
After reading Going Rogue, I like Sarah Palin even more.
Melissa has been captivated by books for as long as she can remember. She resides in Virginia and blogs at Breath of Life.