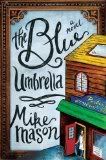 At ten years old, Zac Sparks is living happily with his loving mother—until she tragically dies after being struck by lightening. In no time, Zac is whisked away by two Aunties he has never met to a town called Five Corners. Things are strange and become even stranger when Zac notices lights coming from the roof of the store next to the Aunties' house. As Zac begins to investigate, he finds a town full of secrets, and he discovers he is surrounded by both good and evil. Distinguishing between the two, however, is sometimes difficult, and Zac's search for answers leads to a fast-paced adventure for all.
The Blue Umbrella
, written by best-selling author Mike Mason, is Zac's story. On the surface, The Blue Umbrella
is an engaging adventure filled with mystery, suspense, surprises, and the battle between good and evil. It is a story that will keep young readers turning the pages with excitement. On a deeper level, this is a book with an allegorical dimension. Does God cause bad things to happen? Should we question God? How do our choices affect others? Is it okay to build yourself up by causing another's demise?
The Blue Umbrella
is a story that is being compared to the books in the Lemony Snicket series, the Narnia series, and the stories of Madeleine L'Engle. While I haven't read all of these series, I can say that the Blue Umbrella series will be a hit with fantasy readers, particularly those who enjoy Christian themes. Although I felt the first few chapters started slowly, they set the stage for a fast-paced ride.
The Blue Umbrella
is recommended for ages 9 and up, and it does include tense scenes and some very evil characters. Parents of children at the younger end of the recommended age group might prefer to use this as a family read-aloud; it would be a great discussion starter!
Until now, Mike Mason has been recognized for his nonfiction writing. With the The Blue Umbrella
, he enters the world of children's fantasy in a big way. I recommend this book to those who enjoy fantasy, both children and adults. I look forward to reading the next book in the series!
Lauren is a wife, a mother of two, and an avid reader. She blogs at Baseballs and Bows. Lauren thanks the B & B Media Group for providing the review copy of this book.