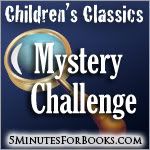 ***Looking for current posts? Click HERE to see all of them***
I'm so hyped about this particular challenge that I can barely type! Who didn't love Nancy Drew, the Dana Girls, the Hardy Boys, Trixie Belden, or Encyclopedia Brown growing up!?! And who wouldn't love a chance to revisit these gems? And who wouldn't love an excuse to bring their children in on the fun and introduce them to the beautiful world of children's mystery stories where there is always a mystery to solve and yet nothing gory ever happens?!
For the next six months, from January to June 2010, we're going to substitute our regular Children's Classics carnival (which typically takes place on the second Tuesday of the month) and replace it with a Children's Classics Mystery Challenge. What all does this entail?
Really, you are welcome to participate as much or as little as you like. The plan is to Make-Your-Own plan. Would you like to reread those Nancy Drew books you've had lying around? Trixie? Or mix and match! The choice is yours. All that we ask is that you write up an initial post saying that you and/or your children are going to be participating in this challenge and link back to this introductory post.
Then, on the second Tuesday of each month we will have a post wherein you can link up any and all reviews you have written in the previous month. For example, on January 12 you can link up your introductory post or any reviews you've completed, so feel free to start reading now. Books, movies, audio, and even video game (oh yes!) reviews may be included and are most welcome.
Why are we doing this? For a variety of reasons. First and foremost, quite frankly, I just want to visit with some old chums of mine. Secondly, this we feel this is a great way to involve our children in our reading habits and, just perhaps, introduce them to the company we kept when we were younger. Which series qualifies as a classic? Let's say anything that came into being before 1980. Maybe you know of a series that we don't, but these are some of my favorites from my younger days:
Nancy Drew, the Dana Girls (also attributed to Carolyn Keene), the Hardy Boys, Trixie Belden, Cherry Ames and the Boxcar Children. I might have to pick up an Encyclopedia Brown (which my husband read but I did not) to see what those are about. Are there others I've missed?
The point is – have fun. Find your inner child in these stories and remember what birthed your love of mystery stories today. Perhaps you even have some of these characters to thank for your present addiction to the written word. Let's celebrate, remember and have fellowship with them again. I think it's about time.
By devoting the 2nd Tuesday to the challenge, we are hoping to build a community of children's mystery lovers, or provide another source of reviews for those of you looking for books for your children.
This is a fairly low-key challenge, but it's always good to set a goal. We are even trying to dig up prizes, so be sure that you look for our monthly posts on the 2nd Tuesday.
I'm excited about this challenge and I hope you will choose to join in on the fun at a pace that suits you. Leave a comment if this sounds exciting to you. If you want to write up an introductory post with your goals, feel free to link it up here or on January 12th, or any 2nd Tuesday throughout the challenge.
If you're joining in, we'd love you to share the button in your sidebar.
Carrie comes by her book obsession honestly, having descended from a long line of bibliophiles. She blogs about books regularly at Reading to Know and Reading My Library.