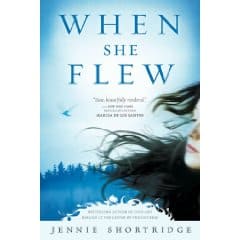 I like a good thrilling mystery (almost) as much as the next guy, but they do seem to often be written with guys in mind. I know that there are some authors, Cornwell and Evanovich come to mind, who are women who write for women, but in general, this genre seems to be dominated by men.
Though I haven't read those other women, When She Flew by Jennie Shortridge seems to fit into this mystery/thriller/cop drama for women genre.
When She Flew tells the story of a 13-year-old girl and her father, who are discovered by some bird-watchers in their permanent encampment in the woods where they live, which brings up the question of neglect. When the police get involved, instead of it being about what's truly right for the girl and her father, it becomes a political landmine of public opinion.
Jess Villareal is one of the few females on the force, and lately she's been feeling the rift between herself and her daughter who left home when she became pregnant as a teen. Probably because of this, she ends up deciding to take a less traditional approach to figuring out what's right for Lindy and her father.
The story is told in alternating viewpoints of Jess and Lindy. Each had a strong voice, and each told her own story in a realistic way. They didn't always know what they were thinking or why they were doing what they were doing. This uncertainty led a vulnerability to the characters that causes the reader to get sucked right in.
I loved the theme of mother-daughter conflict, the suspense of seeing how the story was going come out, and the ability to peek into Jess' and Lindy's heads as they figured out something about themselves.
Jennifer Donovan lived in the Pacific Northwest for three years, and enjoyed the lush green Oregon setting of this novel. She blogs at Snapshot about food, travel, books, and her family.