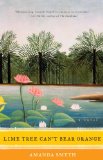 With the lush setting of Trinidad and Tobago, this story of a young girl mistreated and manipulated by the male figures of power in her life is beautiful and painful at the same time. In Amanda Smyth's novel Lime Tree Can't Bear Orange, the protagonist is a young girl whose parents are gone- her mother died bringing her into the world and her father is a mystery man to her who is believed to be in England. When living with her aunt no longer is a safe option, Celia leaves Tobago for the capital city on the larger island of Trinidad. At sixteen, she is still just a child in so many ways, but the road to her adult life is directly ahead of her.
Before leaving her home, Celia is asked to deliver something to a neighbor, an elderly woman who many believe to be a soothsayer with extraordinary powers. She abruptly delivers a fortune to Celia, one that isn't terribly heartening, and Celia is left feeling frightened and confused. Some of the predictions are realized almost immediately, and the others weigh in Celia's mind for the rest of the novel.
I got pulled into this novel quickly and with little fanfare. There's something straightforward and unassuming about this book and its characters. Even though Celia has much to be pained about in her life, she expresses very little emotion throughout the course of her story, and the narrative in her voice is quite frank. With the soothsayer's words spoken to her as a child opening the book, her path in life is clear to the reader even when she doesn't see it coming. Smyth writes beautifully, and in Lime Tree Can't Bear Orange the islands of Trinidad and Tobago come to life on the page.
Dawn loves being transported in time and place through the pages of a book. Her own story is told, in bits and pieces, with love and humor, on my thoughts exactly.