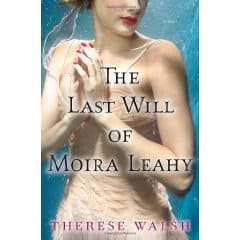 For some reason I assumed that this book was some kind of British type novel set in the past. The cover, the name of the character, and even the author's name Therese Walsh made my mind leap to those conclusions. But I was wrong. It was not only NOT a staid British-type book set in the past, but it was a bit of a genre-bender.
How to describe this novel? It's set in the present-day, with flashbacks to twin Moira and Maeve's childhood and teen years in Maine. The flashbacks help advance the story about the riff between Maeve and her family, and the reasons that Maeve is so reluctant to get involved and to trust people.
The story opens when Maeve buys a keris at auction, an old curved knife that reminds her of her youth when she and her sister played pirates. Once she has the keris, odd things begin happening. Her father sends her to Italy on the trip she and her sister should have taken after high school. This time away both helps her to separate from her sister's legacy and finally come to terms with the fact that she will always be a part of her.
As for the genre-bending? It's part romance, part mystery, part mystical fantasy, a family drama with a bit of adult coming of age thrown in . . . If you like any of these genres but aren't exclusively interested in one type over another, you might find The Last Will of Moira Leahy to your liking. It wasn't the best novel I've read all year, but it was a nice diverting read that held my attention as I wondered how it was all going to wind up.
Jennifer Donovan enjoys variety in her reading. She blogs at Snapshot.