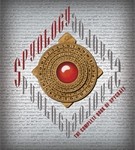 I don't know about you, but I frequently have a hard time finding books for middle grade boys that I think they might actually find interesting. Of course, everyone's taste in books varies but here are a few I came across that are just plain cool. The first is a new release by Candlewick Press entitled Spyology. It is the latest in their -ology series and is just fascinating. I had the privilege of going to the International Spy Museum in Washington, D.C. a few years back and this book reminds me very much of that visit. (If you ever get a chance to go to the museum – I highly recommend doing it!) Spyology is the complete book of spycraft. It's full of codes to crack, clues to unravel, explanations of how spies operate and disguises they use. The intro to the book includes a top secret, classified memo giving you information to draw the reader in and presents a case for them to solve. This book is creative and exciting. The only downside is that it does include one picture of a rather scantily clad women and another in a low-cut evening gown (1940's/50's style illustrations) which were regrettably included and totally not necessary. However, it's easy to "fix" the pictures if you were really interested in handing this book over to your son and you found these illustrations bothersome. They weren't enough to turn me away from this book at all. (I just found it unfortunate as otherwise I would say that there is absolutely nothing to be forewarned about concerning this book. It IS just plain fun.) You can also comfort yourself in the fact that it is educational as well as entertaining and isn't that the perfect combination? Check out this book. It's a really amazing Candlewick publication.
The second book is Castle Diary and is also a delight. This is the story of young Toby, an apprentice to a nobleman in a castle, who keeps a diary of his experiences within the castle. The story itself is fictional however it is chalk full of information about everything from jousts to boar hunts. Simple diagrams and illustrations explain various parts and uses of the castle itself. The book also explains the hierarchy of the 13th century (i.e., kings and queens on top, barons, earls and dukes below and freeman offering their support at the bottom of the power triangle).
The first half of the book is Toby's diary in which he accounts for various events that occurred within the castle walls. The second half of the book is an explanation of what things were like back in the 13th century. You learn about the life of a page, weapons of warfare, and a suit of armor. This book, written by Richard Platt and illustrated by Chris Riddell is very cleverly done. The two have also paired up for a Pirate Diary which I am curious about but have no doubts that it is quite fascinating and engaging.
I'm really impressed with both of these books. If you are a mother to a 8-12 year old, these books might just be exactly what you are looking for!
Carrie comes by her book obsession honestly, having descended from a long line of bibliophiles. She blogs about books regularly at Reading to Know.