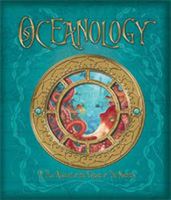 Last year I reviewed the title Spyology which I absolutely loved and adored for young spy wannabes. This year I am proud and happy to introduce you to Oceanology
which is Candlewick Press's latest addition to their -ology series.
Oceanology
follows the adventures of sixteen year old Zoticus de Lesseps on the "true voyage of the Nautilus." What would it have been like if there was a survivor to Captain Nemo's voyage? What if you could read that survivor's diary of the expedition? Well, now you can!
This book is cool and ridiculously awesome! Just like Spyology had codes, letters for the readers and plenty of lift-the-flap explorations, so does Oceanology. We get a description of the Nautilus with diagrams and pictures of the underwater diving suits (illustrated, not photographed, of course!). There is talk of ocean life and a fold out travel map of the globe,depicting the route that the Nautilus took. Plus you get to enjoy the adventures experienced by this fictional character aboard this seacraft. For example, when out in the open ocean, young Zoticus describes feeling a jolt and peering out the portals to discover a herd of sperm whale circling the craft. He also discusses what it was like to explore the Antarctic Ice Shelf and on the same page there is a little pocket inside which you will find a dice game. The dice, of course, is carved out of a whale's tooth in a technique they call "scrimshaw." The reader of this book can fold the dice, making it functional so that they can roll it around and play with it themselves. Lastly, of course, the readers are introduced to the Lost City of Atlantis!
Have I said how awesome this book is? I love the creativity involved, the imagination and the intrigue. This is definitely one to add to wish lists. It is purely amazing!
Carrie comes by her book obsession honestly, having descended from a long line of bibliophiles. She blogs about books regularly at Reading to Know and Reading My Library.