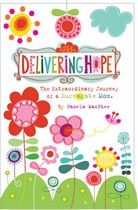 We've all heard stories of surrogate moms. They are kind of an enigma in today's society. Who are they? What are they about? Why do they do what they do? What women in her right mind would subject her body to 9 months of pregnancy – and a DELIVERY! – for the sake of someone else. It is hard for me to wrap my mind around. The idea of adoption is much more easy to accept because you know that the child is wanted in some way and carried to term out of love for the child and hope for the future. It is something that a birth mother chooses for her child – life! Surrogacy is something different. Somehow. Or, at least it has felt that way to me.
In Delivering Hope
, author Pamela MacPhee documents and details the journey she went on after agreeing to be a surrogate mother for her cousin and his wife. After cancer, her cousin's wife was unable to have children of her own. However, before undergoing treatment for this ravage disease, she had her eggs harvested in hopes that someday a surrogate mother would step forth and help the couple to build their family. They just never expected that volunteer womb to be someone in their own family!
Pamela MacPhee shares the joys, the fears, the struggles, the love and trust and awkward moments that she went through as she volunteered her body for pregnancy. From late night phone calls, gifts of maternity clothes, doctor visits, etc., this book shows you the anxiety involved in making such a huge decision. It shows the amazing love and appreciation felt by the couple who longed for a baby but were unable to have one. It is, as the book title would suggest, a moment of tender hope for the future. Hopeful expectations.
I did not agree with all of MacPhee's philosophies but as an adoptive parent myself, I do find her story amazing. Her mindset and sacrifice is, to me, mind boggling. I know the gratefulness that her cousin and his wife felt when their baby, a girl, was placed into their arms. Love radiates throughout this book but I thought MacPhee also did a good job of sharing the pitfalls involved in such a journey.
An intriguing book to be sure if you are remotely curious about surrogate motherhood.
As a special nod towards one of our readers, MacPhee is offered to give away one copy of her book. If you would like to win a copy, please leave a comment below. We'll announce the winner on November 18 in our Wednesday giveaway post.
To learn more about Delivering Hope
you can visit Pamela MacPhee's website.
Carrie comes by her book obsession honestly, having descended from a long line of bibliophiles. She blogs about books regularly at Reading to Know and Reading My Library.