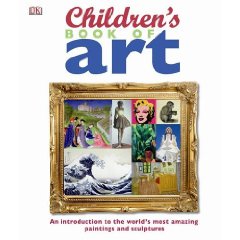 The Children's Book of Art
is a bright, colorful, well laid out and thought out book offering from DK Publishers. Taking young readers from early art's "rocky beginning" through modern art, each section has a great deal of information about various art forms and trends but also exposes children to a variety of different creative masterpieces from art frescoes to Andy Warhol.
I love that this book talks about different time periods, likes and dislikes and also includes information on various individual artists as well, including Friedenstrich Hundertwasser (say that 10x fast!) to Grant Wood (a little easier to say). The book highlights individual art pieces, from the Head of Nefertiti to totem poles! This book is thorough for an introductory book and absolutely awesome! I've glanced through "intro to art" books in the past but nothing quite holds a candle to Children's Book of Art
. Even the cover of the book is cool, with the cutout of a golden picture frame from which you get to take a look inside the book. This book is very well designed to provide a great deal of information but not so much detail that it is overwhelming to a younger reader.
This book covers architecture, the history of sculpting, the wacky interesting art in today's society and has full-color, high-quality photographs to go alongside explanations and descriptions. Really, if you have a young artist or are teaching a group of youngsters art, you'll want to add this book to your collection. It is fascinating to me to just browse through it and glean bits and pieces of information. Uh, for example, I hadn't ever seen Jeff Koons' Balloon Dog but this book includes it (and I found a picture for your education). Take a look: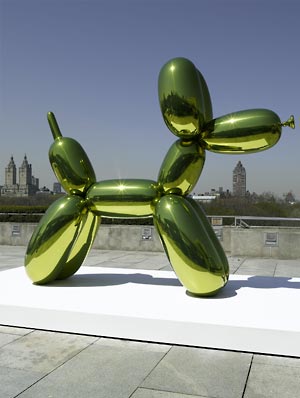 Because who would NOT want something like this gracing their lawn or office building?
I don't get this piece of art, alongside a few others. However, it is really fascinating to take a look at what other people consider to be fine art, to understand societies and cultures and to examine world views. Fascinating, fun stuff and I can't recommend this book more highly. This is my new "5 Star Read." I think it's top notch and an excellent educational resource book.
Carrie comes by her book obsession honestly, having descended from a long line of bibliophiles. She blogs about books regularly at Reading to Know and Reading My Library.