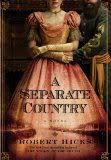 I enjoy historical fiction, and I find historical novels based on real people particularly fascinating. I am not an author, but I think it would be difficult to imagine possible thoughts, actions and events and weave them together with the actual circumstances of a person's life. In his most recent novel, Robert Hicks composes the story of the infamous Confederate General John Bell Hood and his life following the Civil War in a suspenseful and complicated tale of love and redemption.
A Separate Country
begins at the end of General Hood's life, as he is dying of yellow fever. Mr. Hicks takes the reader back in time through the journals of General Hood and his wife Anna Marie. The journals begin with Hood moving to New Orleans to begin his post-war life; but the battle of Franklin, the defining battle of Hood's career, is never far from his mind, and it continues to impact his relationships until his death.
Because my father is a Civil War buff (and I also live near the author), I was excited dig into this book. As I began reading, however, I found myself in a dark and sometimes coarse story, and I had to push myself to continue through the first chapters. As the story unfolded, my interest increased, and I was fascinated with the development of the characters. Although there is no way of knowing what went through the mind of General Hood, Mr. Hicks's research led to a story of transformation: a general most often thought of as a tragic figure was able to change in the years following the defining public moments of his life.
The characters in this story are the primary focus, but the city of New Orleans plays a major role. The heat, stickiness, greed, and paranoia are palpable throughout the novel. I can think of no better place for the characters in this book to come together: a priest, a dwarf, former soldiers, society folk. All of their lives are intertwined and defined by their roles in the city.
A Separate Country
is not a light, easy read, but it is a well-written and researched story that will interest fans of historical fiction, particularly those who are students of the Civil War and Reconstruction periods. Unlike many of the books I read, this story has aspects that appeal to both men and women.
If you haven't read Mr. Hicks's first novel, I recommend The Widow of the South
. It centers around the Battle of Franklin, and some of the minor characters in this story take a more interesting and prominent role in A Separate Country
. Of the two novels, I prefer The Widow of the South
, probably because the protagonist is female (and it is not quite as sinister and dark). If you are a fan of historical fiction, be sure to check out these books. Robert Hicks is a masterful storyteller, and I am always grateful when I finish a historical novel and want to learn more.
Lauren is a wife, a mother of two, and an avid reader. She blogs at Baseballs and Bows.