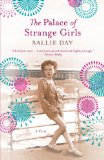 The complexities of a family are on full display in Sallie Day's novel, The Palace of Strange Girls, often making this character-driven story an uncomfortable, inside view of a family slowly coming apart at the seams. An appropriate metaphor for a family supported by the cotton industry, which itself is disintegrating in post-war England at the cusp of the 1960's, in a book with chapters wrapped in an interesting comparison framework.
The Singleton family is beginning a five-day stay at a seaside resort at the onset of the novel– Jack and Ruth, married seventeen years yet not living in an emotionally or physically intimate relationship for quite some time; Helen, their sixteen year old daughter who longs for her adult future to start as soon as possible; and Beth, their seven year old daughter whose health issues have cornered her into a sheltered and spiritless childhood at the hands of her concerned mother. The threads of their familial relationships are certainly wearing thin, and the story is narrated in such a way that each of the four family members get their own time in the limelight, as unflattering as that may sometimes be. While each characters' flaws are front and center, the pain and desires behind their failings are apparent as well, causing this reader to feel pangs of empathy for their individual plights.
I was most taken by the author's set-up of chapter introductions taken from Beth's I-Spy activity book that she is obsessively intent on completing during their visit to the shore. Drawing parallels between beachcombing for hidden secrets and viewing shipwrecks coming ashore to the current of events and status of relationships among the family members comes across as clever and intelligent.
While the setting of The Palace of Strange Girls wasn't familiar to me personally, so many features of a seaside resort town remain the same through time and place. In addition, the complexities of the relationships are portrayed with honesty and grit, causing the characters to be multi-dimensional, showing their pains, their fears, their failings and their attempts at doing right. This novel definitely made for an engaging read, and seems perfect for book club reading and discussion.
Dawn enjoys a book filled with imperfect characters, since this is a concept with which she is very much familiar. Her own imperfect life is chronicled on her blog, my thoughts exactly.