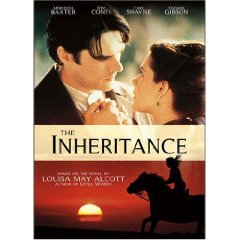 For the Louisa May Alcott Bookclub, I read The Inheritance. It was Miss Alcott's first novel (written when she was a mere 17), but went undiscovered until well after her death. This work caught my attention because it was set in my favorite era, 19th century England. My full review can be found here.
After reading the book, I found out that there was a television movie loosely based on the novel. Loosely is quite an accurate description. The movie takes liberties with the setting (19th century America), the characters (one missing, and one in the movie who was deceased in the novel), and the events. I think the movie made for a sweeter, more plausible story, and kept my attention more than the novel itself. Tom Conti plays Mr. Hamilton (dead in the novel), and I found his character delightful. Meredith Baxter portrays Mrs. Hamilton, who is much softer (and more likable) in the movie. Edith (Cari Shayne) isn't nearly as mysterious and haunted as in the novel, but she's a heroine to champion. Only the characters of Ida and James were consistent with what I'd expected based on the book. Still, I have to say I enjoyed the movie more than the novel.
If you're a purist, you may want to skip this movie. If not, I'd recommend The Inheritance as a great way to spend an evening.
Melissa has been captivated by books for as long as she can remember. She resides in Virginia and blogs at Breath of Life.