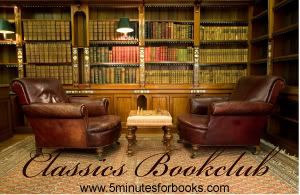 This month for our Classics Bookclub, we invited you to read any work by Louisa May Alcott.
I've been very excited about this because I found a few short stories that I wanted to read by Alcott, and I like the flexibility of being able to choose any title I'd like from a given author. This is definitely my cup of tea so I'm anxious to share with you what I read.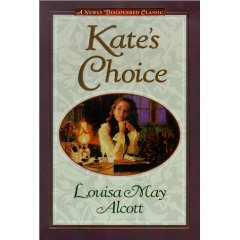 This past summer I was browsing at our local Goodwill and stumbled across a copy of the book Kate's Choice
. Having never heard of it before, I snatched it up and intended to keep it for reading this holiday season. I was delighted to dive on in. Kate's Choice
is the title story within this book, but it also includes two other stories, both revolving around the Christmas holiday. Kate's Choice itself is about a young girl (betcha can't guess her name!) who is orphaned. Born in England, she is sent to live with her family in America. It was her father's desire that she spend time living in each of her four uncle's homes before making her final decision as to where she would live.
Kate is an all together agreeable girl and everyone loves her. So it is with some mixture of sadness when she decides not to live with any of her uncles, but goes to live with her grandmother instead. The grandmother, on the other hand, couldn't feel more blessed. This is definitely a heart-warming, feel-good type of story and I enjoyed it for that. The other two short stories in this particular book are entitled What Love Can Do and Gwen's Adventures in the Snow. Both read as short magazine stories and are charming and delightful each in their own way. Of the three, I probably enjoyed What Love Can Do the most because it focuses on having a spirit of giving rather than receiving. That said, having never read any of Alcott's short stories before this, it was fun to relax for a few minutes and breeze through these works.
I highly recommend them for a fun Christmas read.
Now on to some other Bookclub news….
We had already announced that we were going to take December 1 and January 5 off from Classics Bookclub because of the busy holiday months.

After the first of the year, we are going to switch to a quarterly bookclub, taking place on the 5th Tuesday of each month, meaning our next bookclub will take place March 30. We are hoping that by having it only four times a year that those of you with a strong desire to participate will be able to.

We love the uniqueness of Classics Bookclub and want to keep it going strong.

We've gotten so many good ideas from you, so please leave your ideas for future titles in the comments. If you'd like to see the books we've already covered, click HERE.
Now it's your turn. Add in the link to your blog post about Louisa May Alcott in the linky below (or feel free to share in the comment section).