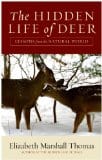 This is the perfect title for a book on deer, because living here in semi-rural Connecticut, we would see our fair share of deer as we drove around at dawn and dusk. Then when we tried to plant a garden, we saw the evidence of their work–footprints in the dirt and nibbles at the leaves. The morning glories that we trained on a trellis this summer only bloomed at the top of the trellis, because the deer ate all the way up both sides.
We would always see the results of deer presence in our yard, but until this last year or so, never actually saw the deer, which I thought was unfair.
I love to see deer. There is something so graceful and strong and beautiful about them. As I said, last year we started to see them more frequently, eating the evergreens on our property during the snowy winter.
In The Hidden Life of Deer Elizabeth Marshall Thomas writes about her observations of the deer population on her property that she was able to monitor specifically as a result of putting out corn for them in a season when the acorns, their usual winter diet, were scarce.
I found this book to be completely readable and fascinating. She takes a balanced look at wildlife, noting how humans effect wildlife and the effect that wildlife has on humans as well. Reading this book answered many questions that I had, such as "With a 40 pound barking dog in my yard, why do the deer come at all?" The answer is that they do not feel threatened by a barking dog. She is the enemy they know, and in fact serves to alert them of the stealthier, more potentially dangerous enemies (other dogs and people). The couple of times I've seen deer in the yard at daylight, I've always looked for the dog, and I've usually found her up on the back deck, watching them and staying very still, or waiting to be let in the house. She is no threat to them, and they obviously figured that out accurately.
In Marshall's effort to understand deer, she even goes out with a hunter. She understands that hunting is a part of the life of deer, with humans being natural predators, and she is not necessarily firmly against it as one might suppose.
For that reason, this book might make a great gift for a hunter or nature-lover.

We have a copy to give away to one of you (U.S. or Canadian shipping addresses). Just leave a comment here, and we'll announce the winner on November 11. The giveaway is closed.
The winners of the Waiting for the Owl's Call giveaway are #6 Jen @ Happy Little Homemaker, #12 Penny Hull, and #22 Nicole C. The winners of The Swiss Courier are #1 Katy, #4 Stacy, #8 Jenny, #39 Anita, and #46 Nancy.

Seeing deer and other wildlife (foxes, pheasants, wild turkeys) is one of the things that Jennifer Donovan loves about living in Connecticut. She blogs about her life at Snapshot.