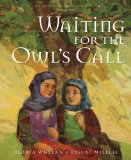 Books can take us all around the world, and I believe this to be as important for young children to experience as adults. Sleeping Bear Press offers several titles in their Tales of the World series that provide opportunities for children to view the world outside their own immediate communities. Waiting for the Owl's Call by Gloria Whelan takes young readers to Afghanistan, to see this world through an eight year old child's eyes.
The eight year old narrator, Zulviya, explains her family's way of life as part of the Turkomen people living in Afghanistan, including the daily call to prayer and the family tradition of rug weaving by hand. She works at the loom, wedged between her ten year old sister and sixteen year old cousin, for many hours a day. While they don't fully understand the concept, they have heard the word school, and they imagine the word as a pleasing sound, in comparison to the intense work that fills their days. But this idea of school is ultimately a foreign concept. Since all the mothers and grandmothers before hers have always been women of the loom, this is not questioned as her path.
The power that Zulviya holds is in her head. As her fingers knot and tie the creations of woven patterns on the loom, she simultaneously weaves a pattern in her imagination, incorporating the beauty of the colors in her world, from the green of the hills surrounding her to the brown of the walnut rinds that provide dye for the wool. The lyrical language of this picture book is accompanied by deeply toned illustrations that perfectly bring the story to life.
While beauty is apparent in this book, I was ultimately left saddened by the intense labor expected of these children at the expense of the education or social experiences that our culture sees as a basic part of childhood. I was pleased to read the Author's Note at the conclusion of the book that includes information about the prevalence of child labor in the making of hand-woven rugs in many countries, as well as the existence of organizations working toward ending this type of child labor.
Waiting for the Owl's Call is very well suited for classroom usage as well, and Sleeping Bear Press has also created a Teacher's Guide to accompany the book. For more excellent multicultural and diverse selections, please visit their site at discovertheworldbooks.com.
We are pleased to offer a giveaway of three copies of Waiting for the Owl's Call. Please leave one comment here to be entered, and we will announce the winners on Wednesday 11/4.
Dawn loves to be transported by a book, whether it be a novel, memoir or picture book. Her own life story is told one blog post at a time at my thoughts exactly.
Subscribe to our feed. Follow us @5M4B on Twitter. Enter our other giveaways.