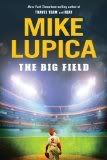 My son is a sports fanatic. He is an avid reader as well, but he is happiest when he is reading about sports. Recently, I picked up a copy of Mike Lupica's The Big Field
.
My son devoured it.
Being the protective mom that I am, I read the story as well, primarily because I wanted to be sure that the themes in the story were not too mature. The characters in the story are fourteen, and I know that there are many fourteen-year-old boy issues that I would like to avoid for a few more years. The Big Field
, however, was a pleasant surprise. The story is about the boys on a summer baseball team and their quest to win a championship. The main character, Hutch, loves baseball above all else. Unfortunately, he is dealing with two challenges during the season: he moves to second base from his beloved shortstop position when a better player joins the team and his relationship with his father is rocky. Over the course of the summer, Hutch must learn to fill his new role as the second baseman and lead the team as captain while forging a better relationship with his dad.
The Big Field
is an exciting story with great messages for kids. The action, both on and off the field, will keep young readers turning the pages. As a former teacher, I know that finding books that grab the attention of upper elementary and middle school boys can be challenging, but this story fits the bill. I understand why my baseball-loving son read it in one sitting, and I know he is ready to read more of Mike Lupica's books!
This review, as well as others from the week, are linked up to Semicolon's Saturday Review of Books. Check it out for yourself!
Lauren is a wife, a mother of two, and an avid reader. She blogs at Baseballs and Bows.