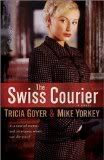 Last year, I read the Chronicles of the Spanish Civil War
series by Tricia Goyer. I enjoyed the books so much that I have read almost every one of Tricia's books. Tricia writes both fiction and nonfiction, and I am always impressed with her writing, no matter the genre. Because of this, I was very excited to receive a review copy of Tricia's latest novel The Swiss Courier
, which was co-authored by Mike Yorkey.
The Swiss Courier
is set in Switzerland near the end of World War II. Gabi Mueller is a young woman working for the American Office of Strategic Services (the forerunner to the CIA) in Basel, Switzerland, which is just across the border from Germany. After a plot to assassinate Hitler fails, the Gestapo begins executing anyone who seems suspicious. When asked to participate in a covert operation, Gabi finds herself fighting for her own life as she works to rescue Joseph Engel, a German physicist working on the atomic bomb.
One of the aspects I enjoy about Tricia's novels is that you never know who you can trust. As I met the characters involved with Gabi, I couldn't help but wonder what secrets they kept. Additionally, Tricia makes history come alive through her stories, and I feel as though I am enjoying a great story and a history lesson at the same time. If you appreciate great storytelling, an accurate historical setting, and a godly message, be sure to pick up a copy of The Swiss Courier
. I am sure you will enjoy it as much as I did.
Because I liked this book so much, I am happy to announce that we have one copy to give to one of you. Please leave a comment if you are interested. We will announce the winner next Wednesday.
The winners of the Alfred Nobel: The Man Behind the Peace Prize books are #4 mee, #10 Julie H, and #14 Laureen. Enjoy!
Lauren is a wife, a mother of two, and an avid reader. She blogs at Baseballs and Bows. Lauren thanks Revell Publishing for providing the review copy of this book.