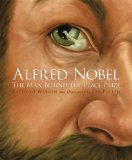 With the recent announcement of the recipients of the five Nobel Prizes, I was struck by the fact that I really know nothing about the origin of the prizes or their namesake. Earlier this year, a picture book was published that addresses these questions in a simple retelling of the major points of Alfred Nobel's professional life, written with an emotionally evocative tone and incredibly rendered illustrations, in Kathy-Jo Wargin's Alfred Nobel: The Man Behind the Peace Prize.
Emphasizing Alfred Nobel's years of hard work in attempting to create a useful and productive explosive product, the story unveils how he suffered the accidental loss of his brother, along with his disappointment in the application of dynamite in the creation of weapons. I am sheepishly admitting that I was unaware that he was the inventor of dynamite, and I was surprised to read about his initial idea of its usefulness in preventing conflicts:
"Alfred was happy with his success. Most of all, he hoped his inventions would prevent war. He thought that if people were afraid of the harm that explosions could cause, perhaps they would settle things peacefully first."
With a diverse set of interests, Alfred Nobel immersed his life in science, inventions, literature and poetry. It comes as no surprise that he designated almost the whole of his estate to the awarding of yearly prizes for physics, chemical discovery or improvement, physiology or medicine, literature, and of course, peace. Perfectly accompanying the storytelling in this book are Zachary Pullen's beautiful oil painted illustrations, all as mesmerizing as the cover image seen here, featuring a rich palette of colors and incredibly detailed images. Closing with a list of the history of Nobel Peace Prize winners from 1901 to 2008, Alfred Nobel: The Man Behind the Peace Prize provides a simple history lesson that is well worth receiving.
Are you or your children in need of this particular history lesson as well? We have three copies to offer in this week's giveaway! Please leave one comment below to be entered, and we will announce the winners next Wednesday, October 28th.
The winners of the Chicken Soup for the Soul: What I Learned from My Dog (and Cat) books are #32 – Marta Araujo, #41 – Kerrie Mayans, and #45 – Anita A.
Dawn is in need of many, many history lessons, which she will gladly take in the form of beautiful picture books any day. For more of her uninformed wisdom, you can visit her blog, my thoughts exactly.
Subscribe to our feed. Follow us @5M4B on Twitter. Enter our other giveaways.