It's taken me a while to write my review of Mary E. DeMuth's Daisy Chain and A Slow Burn (Defiance Texas Trilogy Books 1 & 2). In part, because they were so intense that it took me a while to recover from them. Also because I feared any attempt to review the books would fall terribly short. I'm not sure I can label my reaction to the story…at times, angry, sad, intrigued, frustrated, and emotionally exhausted.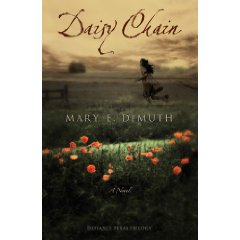 The books tell the story of the disappearance of 14-year old Daisy Chance. Daisy Chain centers on Daisy's closest friend, Jed Pepper, and the affect her disappearance has on him. Jed was the last person to see her, and he feels responsible. He tries to find clues that will solve the mystery, yet as time passes he realizes that hope of finding her alive is diminishing. For Jed, Daisy represents a ray of light in an otherwise dark existence. His Bible-thumping father isn't all he appears to be, and only Daisy is brave enough to talk to Jed about it. Without Daisy, Jed is lost.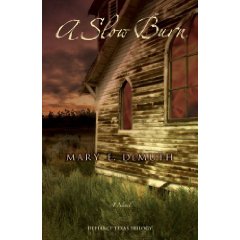 The second book, A Slow Burn, backs up a few days into the story to focus on Daisy's mother, Emory. She's not a central character in the first book, but of course, as Daisy's mother she figures prominently into the story of her daughter's disappearance. Emory herself becomes a victim as the mystery continues to unfold.
DeMuth has crafted a set of terribly flawed characters, wrestling against God through this chain of events. Will the resolution (still missing at the end of the second book) lead to revelation and healing for everyone? For anyone? I honestly don't know, but I can't wait for the next book to find out!
Melissa has been captivated by books for as long as she can remember. She resides in Virginia and blogs at Breath of Life.