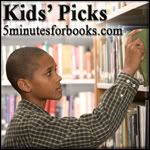 You know the drill by now (or if not — read the detailed instructions HERE).
This last month we've all had a busy schedule here in my house — especially my tween! But we are looking forward to the more laid-back late-fall season perfect for curling up with a book.
What about you? Have your kids been reading up a storm? Or has reading been pushed out for other pursuits?
All it takes is one good book. Write a post (or join in the comments) and let us know what books your kids enjoyed this month.
Join us for our other weekly community events:
We will be posting all of them at 7:00 a.m. Eastern, except for Nightstand, which will adhere to the schedule, linked below.
Join in our other Tuesday community carnivals:

October 27 — What's on Your Nightstand
November 3 — Classics Bookclub — any book (your choice) by Louisa May Alcott
November 10 –Children's Classics Celebrate the holidays (any Fall or Winter holiday)