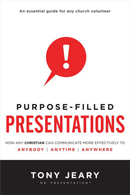 Purpose-Filled Presentations
is subtitled, "How any Christian Can Communicate More Effectively to Anybody, Anytime, Anywhere." Although I do agree that it is written primarily to Christians, it can be utilized by people of any faith because the advice and practical types for public speakers, as well as personal communications, are very practical. Author Tony Jeary apparently brands himself "Mr. Presentation" and expresses a desire to teach church goers how to communicate with one another.
From the back cover:
"Your presentation may be informal and momentary — like greeting people at the door — or formal and momentous — like sharing your testimony before a congregation. But either way, it will make an impact."
That is very true. Our first impressions, and longer lasting impressions, of people do matter. What I say and what I do will have an impact in the way that you think about me. (What I write in this post will leave an impression and while I hope it's a good one I'm well aware of the fact that my English skills are frequently lacking and mistakes likely go unchecked with some regularity which no doubt drives some of you crazy!) Learning how to address people well is an essential skill for humans, not just church-goers.
Jeary introduces you to seven steps for effective presentations. He gives you techniques for speeches, if you are to address a gathering. He talks to you about appearing more natural before your audience and about speaking clearly and succinctly in order to effectively hold your audience's attention. He lays things out in this book in a very practical way, giving examples and objectives as he goes.
If you have a young public speaker on your hands, you might want to offer them this book. If you are nervous when speaking to others, this book might help you move past that. Really though, if you are human and want to learn how to communicate more effectively, then this book could be the practical tool you need to help you do that. (If you don't fit into any of those categories – even the human one – I'm sure you can think of someone you know with poor communication habits that you think could really use this book, right? I can think about half a dozen . . .)
Purpose-Filled Presentations
meets a need and serves its purpose well, teaching us how to make an impact with the people who mean the most to us – the ones right in front of our faces on a daily basis. You cannot get any more practical than that!
Carrie comes by her book obsession honestly, having descended from a long line of bibliophiles. She blogs about books regularly at Reading to Know and Reading My Library.