I love to take vacations with (and without) my children. We can buy souvenirs and take pictures, but in the end it's the memories that we hold most dear. Not only is remembering an important part of our vacations, but the anticipation is part of the fun as well.
When we moved here to Connecticut five years ago, we knew that we wanted to visit Cape Cod. We've been there twice and still hold on to memories of playing in the sand (while trying to keep warm!), whale watching, and the special kind of fun that a beach vacation brings.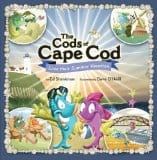 I was so excited to share The Cods of Cape Cod Love Their Summer Vacation with my five-year-old son Kyle. We both loved it. The first afternoon I read it to him, he asked me to read it again before he went to bed. That's a sure fine sign of approval, is it not?
Whether you've been to Cape Cod or not (or are planning to go), if you have a beach vacation in your past or your future, The Cods of Cape Cod is a great way to introduce or relive those special beachy activities. The rhyming verse is catchy (not corny as is so often the case in these types of books), and the artwork is absolutely beautiful.
Watch the quick video below to get a taste of what I mean:
Check out illustrator Dave O'Neill's blog. You can also follow them on Facebook and learn more about them at their website Shankman and O'Neill.com.
If you like this book, there's more. Click through to our reviews of The Boston Balloonies and I Met a Moose in Maine One Day on 5 Minutes for Mom and 5 Minutes for Giveaways where you can enter to win signed copies of each of those books as well.
And if you'd like to win a signed copy of The Cods of Cape Cod just leave a comment here (Only one comment per person please!). We'll announce the winner on November 7.

Jennifer Donovan blogs at Snapshot about her too-infrequent trips and adventures, but mostly covers the daily life in Connecticut of her Kindergarten son and tween daughter, all of whom love books too!
Subscribe to our feed. Follow us @5M4B on Twitter. Enter our other giveaways.