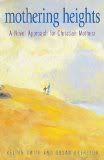 When I am deciding what to read, I gravitate toward fiction. There is one group of nonfiction books, however, that is sure to capture my attention: godly parenting. Ultimately, the Bible is my go-to guide, but I appreciate other thoughtful resources as well. When I saw the idea for Mothering Heights: A Novel Approach for Christian Mothers
, I was immediately fascinated.
Mothering Heights
is a book about motherhood: our preconceived notions, the importance of a mother's role, the challenges, and the rewards. What makes this book different is the author's approach. Each chapter is named for a classical novel and has quotes from the novel interspersed within the text. Stories like Pride and Prejudice, Treasure Island, Room with a View, and others are used as a starting point for reflection, encouragement, and discussion (each chapter includes questions to be used in a group setting). One of my favorite chapters, Great Expectations, focuses on the expectations we have of ourselves as well as the expectations others place on us. Delving into these issues that are central to motherhood is thought-provoking and challenging, and I truly enjoyed the author's use of fiction as a springboard for these topics.
Although I didn't agree with the author's viewpoint in all areas, I found this book to be uplifting and a great reminder to be intentional in my parenting. I want to be a thoughtful mom, guiding my children toward a relationship with their creator in a purposeful manner. Although the information in this book isn't new, the author's "novel" approach helps to create a fresh and encouraging look at the important role of a mother.
If you are a mother striving to raise godly children, I recommend Mothering Heights
, and I am happy to announce that we have one copy to give away to one of you. Please leave a comment if you are interested.
The winner will be announced in next Wednesday's giveaway post.
Subscribe to our feed. Follow us @5M4B on Twitter. Enter our other giveaways.
The winner of The Hidden Life of Deer is #12 Katrina @Callapidder Days

The winner of The Cods of Cape Cod is #44 Diane Westerbeek.
Lauren is a wife, a mother of two, and an avid reader. She blogs at Baseballs and Bows. Lauren thanks Judson Press for providing the review copy of this book.