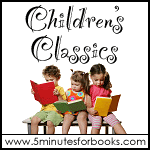 This is absolutely, hands down, my favorite time of the year. Once November rolls around I'm all about decorations, cookies, parties, presents, books, traditions, etc., etc., etc. You name it, I like love it! This season is just so full of celebrations, life and love and I can't get enough of it. Therefore I am particularly excited about "hosting" the next two months of the Children's Classics carnival here at 5 Minutes for Books because they are all about holidays.
Today is your chance to link up your children's book(s) of choice that relate to any of the holidays that are coming up here in the next few months.
As for me and my family, we're unpacking our Thanksgiving and Christmas books to make them available for much reading this season. One of the books that I slid of the top shelf the other day was Jan Brett's The Night Before Christmas
. Although the poem is a classic, the illustrated version by Brett doesn't necessarily qualify as such – yet! However, I think it is destined to be a classic.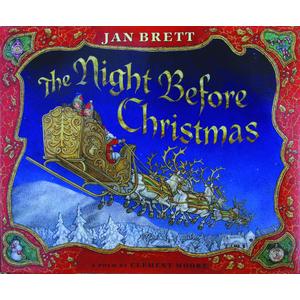 Illustrated in classic (I have to at least get the word in there, right?) style, Brett style, the border of each page spread tells its own story as you read this familiar poem:
"Twas the night before Christmas, when all through the house not a creature was stirring, not even a mouse."
That sets my heart stirring right there and I get giddy thinking of all the fun we are to have this holiday season. The songs, the food, the smell, the friends who we are anxious to see, the little boys in pajamas and "OH WOW's" you hear everytime you see a house decorated in Christmas lights. It's all so beautiful and books are just a nice added touch to the snowmen, candy canes, Christmas ornaments and Starbucks Eggnog lattes. I may just overwhelm myself with glee this year and you'll have to set me back up on my feet come January to get me moving again. In the meantime, what's your favorite children's holiday book? You can bet I can't wait to hear about it! Leave your link below and we're ready to listen and learn.
Next month come back and participate again. The theme of next month's Children's Classics is:

December 8 — Children's books you love to give (Share your best gift ideas)

Also, please join us for our other regular Tuesday events:

November 17 — Kids' Picks
November 24 — What's on Your Nightstand
Carrie comes by her book obsession honestly, having descended from a long line of bibliophiles. She blogs about books regularly at Reading to Know and Reading My Library.
Check out our current giveaways. Subscribe to our feed. Follow us @5M4B on Twitter.
And now — Add the link to your review of the holiday book you'd like to recommend. Or if you don't have a blog, feel free to leave your thoughts in the comment section.