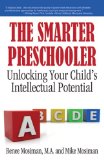 As a parent today, I am constantly overwhelmed by the onslaught of products that advertise their value in making our children smarter, so much that it seems as if a parent is simply being irresponsible by not making the purchases. As easy as it can be to fall prey to the marketing strategies that play on our parental insecurities that are growing each day, I often have to remind myself of the basics. As a preschool teacher for ten years, and a parent for the past nine, I am was pleased to receive a copy of The Smarter Preschooler: Unlocking Your Child's Intellectual Potential from the authors, Renee and Mike Mosiman, which is quite helpful in that reminding process.
While the title could potentially lead you to believe that the inside pages will be selling you product after product, this book actually is a quality resource for parents looking for some basic guidance on simple ways that they can have a very positive effect on their young children's overall development. The Mosimans cite several studies to support the advice that they provide, and they tackle such areas such as language development, the importance of play, and guidance on the usage of electronics for young children, among others. From my perspective as an early childhood educator and a parent, I was happiest to read the chapter that described the many day-to-day ways in which parents can involve their children in the everyday routines at home that have 'hidden' developmental benefits- such as sorting laundry to helping with cooking projects, both tasks that support the learning of basic mathematical concepts.
While the vast majority of this book speaks to activities, interactions and opportunities for learning that parents can provide for their children at home, the final chapter of the book differs in that it addresses a parent's potential choice to place their child in preschool. I found myself disappointed in a few aspects of this particular chapter, and this is most definitely a result of my own experience with early childhood education. Making no real distinction between child care and preschool programs is a mistake too often made by the general public, and without a description of what a quality preschool education program should be, and in many cases already is, an unfair generalization is made about 'preschool' that doesn't fully address all the available options. Ironically, I spent my career at a university based preschool program that embodies the very picture that the book paints of quality early childhood experiences that most effectively benefit young children. The authors address reasons that parents may opt to place their children in preschool, but do not include the fact that for many parents it is simply not a choice, but a necessity due to work obligations. I felt this chapter was not the best resource for parents looking for information about preschool in general or the options that may be available to them.
Overall, I would recommend The Smarter Preschooler: Unlocking Your Child's Intellectual Potential for parents who are looking for solid and basic advice on how they can support their children's development in simple and effective ways. Best of all, this book encourages parents to take an active role in providing opportunities for learning and engaging their children in conversation and involvement in the world around them, and no purchased product could be better than that.
Dawn has lived in the world of preschool aged children for a good chunk of her life, and the glory of her own little ones is frequent fodder for her blog, my thoughts exactly.