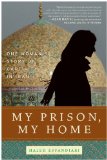 At the end of one of her regular visits with her mother in Iran, Haleh Esfandiari prepared to return to her suburban Maryland home on December 30, 2006. Instead of a routine taxi ride to the airport, she was the victim of a supposed robbery, losing her plane ticket, purse and both her Iranian and American passports to four perpetrators who forced the cab off the road. This event, which soon became suspiciously unlike any 'typical' robbery, marked the beginning of Esfandiari's nearly nine month detainment in Iran, including a 105 day stay in solitary confinement at Evin Prison. My Prison, My Home: One Woman's Story of Captivity in Iran is the compelling account of her experience.
In the interest of full disclosure, I must say that I am close friends with a colleague of Haleh Esfandiari's in her position as the Director of the Middle East Program at the Woodrow Wilson International Center for Scholars. When she was first detained, I watched as my dear friend struggled with his fear for her safety and tried to understand what kind of case was being made against her by the Iranian Intelligence Ministry. As Esfandiari describes her work, it's difficult to imagine that her efforts could be construed as destructive.
"We organized seminars, lectures, and conferences and invited speakers and participants from the Middle East, including Iran. I was pleased to be fostering dialogue between Iranians and Americans."
And yet, she stood accused of "endangering national security," and held in prison without access to representation or connection to the outside world for over three months. While the story itself is strikingly shocking to a reader raised under the ideals of our American democracy, the power of this memoir lies in Esfandiari's voice in the retelling of her experience, as well as in the perspective she shares of her home country's state of affairs. Seamlessly, she weaves historical context into her own personal narrative, informing the reader of the varying socio-political climates of Iran over the last several decades. We see Iran through her eyes– the eyes of a citizen and the eyes of an emigrant, the eyes of one returning to a childhood home as an adult, the eyes of a countryman who longs for understanding between her former and current lands, and the eyes of one who feels betrayed and abused in the name of her homeland's security.
Without delving into the political complexities of Esfandiari's experiences, suffice it to say that hers is a commanding and harrowing story. Her straightforward tone never turns melodramatic, even though that would have been completely understandable, considering the circumstances. She doesn't use this memoir as a bullhorn to lay out point by point all of the positive efforts she has undertaken in her professional life to build bridges between the Middle East and the West, even though that too would have been absolutely reasonable as well. Instead, she gives a detailed account of her experience during her detainment and works to provide a context for the reader on contemporary Iran. This was particularly notable for me specifically because it never sounded like a history lesson, and it was consistently accessible for those of us who are not as politically savvy or worldly as others may be.
Simply put, My Prison, My Home is a captivating book for its perspective on the political climate in contemporary Iran, but more importantly it's a must-read memoir for its portrayal of strength, survival and love for country. I wholeheartedly endorse it on our list of 5 Star Reads.
I am happy to be able to offer a copy to one of you. Just leave a comment if you'd like to win, and we'll announce the winner in next Wednesday's giveaway post.
The winner of last week's giveaway Delivering Hope is #1 Benita G.

The winner of Mothering Heights is #12 Marj M.
Dawn is excitedly awaiting an upcoming meeting with Haleh Esfandiari, and she will undoubtedly be describing the sure-to-be-amazing experience on her blog, my thoughts exactly.