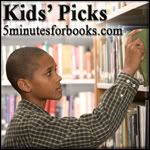 Our monthly Kids' Picks is all about sharing the books that our kids have been reading (and want to recommend). It truly is my favorite monthly event. I love clicking through and reading the books that you and your kids have been enjoying, and I enjoy the feedback when I share the books that my kids love.
So, please join in. Even if you've never participated, just write up a blog post with a book or two that your child would recommend to other kids. If you don't have a blog, leave their recommendations in the comment section.
If you aren't posting a suggestion, feel free to see what others' are recommending by reading the comments and clicking through the links.

Make plans to come back the 3rd Tuesday next month for Kids' Picks. We invite you to participate in our link-up carnivals each Tuesday:

November 24 — What's on Your Nightstand
December 8 — Children's Classics — Children's books you love to give
Jennifer Donovan loves books — reading them, discussing them, recommending them. You can get to know her and her family by following her blog Snapshot.
Check out our current giveaways. Subscribe to our feed. Follow us @5M4B on Twitter.