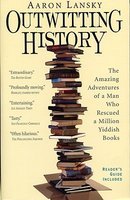 What is Yiddish? Does anyone else know? I looked it up after reading Outwitting History
: The Amazing Adventures of a Man Who Rescued a Million Yiddish Books. I had heard of Yiddish and knew it was spoken by Jews. I've read a few books where maybe a line or two is included. But I wasn't really sure what it's origin is. For simplicity sake, I'll steal from Wikipedia:
Yiddish is: is a non-territorial High German language of Jewish origin, spoken throughout the world. Yiddish is conventionally written in the Hebrew alphabet. The language originated in the Ashkenazi culture that developed from about the 10th century in the Rhineland and then spread to central and eastern Europe and eventually to other continents. In the earliest surviving references to it, the language is called לשון־אַשכּנז (loshn-ashkenaz = "language of Ashkenaz") and טײַטש (taytsh, a variant of tiutsch, the contemporary name for the language otherwise spoken in the region of origin, now called Middle High German; compare the modern New High German Deutsch). In common usage, the language is called מאַמע־לשון (mame-loshn, literally "mother tongue"), distinguishing it from biblical Hebrew and Aramaic, which are collectively termed לשון־קודש (loshn-koydesh, "holy tongue"). The term "Yiddish" did not become the most frequently used designation in the literature of the language until the 18th century.
As Lansky says as an introduction to Outwitting History
, Yiddish was a disappearing language as fewer and fewer Jewish people were speaking it. However, now some people consider it "hip" and want to learn how to speak it. (He used the word "hip" when quoting someone else. That wasn't my interpretation.) He explains that back in 1980, when he was 24 years old, he felt a call to save all of the Yiddish books he could find to try to preserve the language and make it available for people to read. At the time he made this decision, many people were throwing out their Yiddish books for a variety of reasons. Outwitting History
documents Lansky's journey to find and rescue these books.
Aaron Lansky writes in a compelling and engaging manner. He opens the book well with a story of an overnight trip to go dumpster diving to save over a 1,000 Yiddish books. His stories are amazing and endearing and it is easy to get wrapped up in his journey and grow in appreciation for it. He wrote this book as a way of telling his story but reminding people of the history of this language. As you know, I don't make a habit out of sharing text from the book in a review that I write. However, in this case, I think Lensky speaks best for himself:
"I am now forty-nine years old, and with few exceptions the people who entrusted me with their books in those early years are gone, and their world with them. Even as I write, despite the growing curiosity of scholars and the enthusiasm of young people, with the Jewish mainstream the story of Yiddish culture continues to be erased, our history rewritten, our sensibility recast, our identity redefined. More and more, as memory fades, the books we collected are all that remains. For tha treason, the time has now come to tell this tale. It's sad, and funny, too. It's the best way I know to identify what's missing from contemporary Jewish life — and to begin to reclaim what we've lost."
I highly recommend Outwitting History
as a beautiful and meaningful story.
Carrie comes by her book obsession honestly, having descended from a long line of bibliophiles. She blogs about books regularly at Reading to Know and Reading My Library.