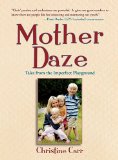 Attention moms: You know how good you can feel after having a spontaneous conversation with another mom while you watch your children play around at the park? I'm talking about the type of conversation in which you drop all the pretenses and speak candidly about the whirlwind that life is when you're a mom. Well, Christine Carr is providing one side of that conversation in her new book, Mother Daze: Tales from the Imperfect Playground.
With concise chapters filled with personal stories and reflections, lots of laughs and a fair share of gentle reminders to focus on the truly important aspects of motherhood, readers can feel free to read bits and pieces here and there, which is actually quite appropriate considering the amount of reading time often available to its target audience. Personally, I most appreciated Carr's emphasis on toning down the madness that seems to be accompanying motherhood today, especially the never ending pressure that we put on ourselves to do everything! With the goal of providing experiences and opportunities for our children, we too often find ourselves with crazy booked schedules and a general sense of constant frenzy in our lives. I think perhaps we all need the reminder to stop and breathe, spend some downtime with the ones we love, and to not forget to spend some time away from the children as well!
As an elementary school physical education teacher for over 15 years, the author also has the unique dual perspective as a parent and a teacher, and I saw much value in her advice to parents regarding their children's school lives. One particular example came in handy for me just this week when it came time for my oldest child's parent/teacher conference. Carr advises that if parents really want to know what their child is like at school, they should ask the P.E. teacher- the person who gets to observe their child at play, i.e. in their natural environment. When I walked into the gym the other day and asked my son's P.E. teacher for his feedback, I saw genuine appreciation in his eyes, and I honestly wondered how many times he's been consulted on conference day.
If you're looking for a gift book for a fellow mom, or even to fill a baby shower basket for that mom-to-be in your group of pals, Mother Daze fits the bill.
Dawn is pretty sure that her entire life is the embodiment of the word imperfect, and she shares some of the embarrassing details on her blog, my thoughts exactly.