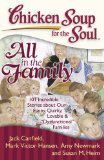 It's in this spirit that the folks at Chicken Soup for the Soul bring you their latest offering: All in the Family: 101 Incredible Stories about our Funny, Quirky, Lovable & "Dysfunctional" Families. Just in time for Thanksgiving, it's always reassuring to read about the FUN in other families' dysfunction as you prepare to gather your loved ones around for a yearly dose of some holiday wackiness. Whether you're reading it on your own or sharing stories aloud with your own crazy crew, the entries in this latest Chicken Soup release will ring familiar and provide a healthy serving of laughter, as well.

Read my full review at 5 Minutes for Mom, and click through to enter to win one of three copies.
Comments are closed here to remind you to leave your comment over there.
Dawn's family is made of equal parts crazy, funny, and loving, with the memories recorded on her blog, my thoughts exactly.